Le Petit Chenac and it's surroundings
Le Petit Chenac and it's surroundings
The sun-drenched Charente-Martime has something to offer for every holidaymaker. It has a special mix of culture, nature, beautiful sights and the sandy beaches of the Atlantic Ocean. Within walking distance is the small harbour of Saint-Seurin-d'Uzet. In the main street is a general store selling basic necessities. Read below to discover our beautiful region. This overview is of course far from complete. There is an information folder in every holiday home: leaflets, maps and an list of the nearest and nicest restaurants and shops. Or ask us, we are happy to give you additional tips!
De Gironde Estuary (1 km)
Le Petit Chenac is less than a kilometer from the Gironde! The Gironde is the largest estuary in Western Europe and is no less than 12 km wide, 75 km long and flows from Bordeaux to the Atlantic Ocean. It is a historic waterway. In order to protect Bordeaux at various times, all kinds of beautiful buildings and military complexes were built. A good example of this is the oldest lighthouse in France, Phare de Cordouan and the Citadel of Blaye. Characteristics of this area is the beautiful marshland, interspersed by white chalk cliffs, charming fishing villages and fishing huts (carrelets). The river, with its natural banks where fresh and salt water mix, attracts an enormous diversity of birds and fish. The Gironde is still the only site in Europe where the sturgeon breeds.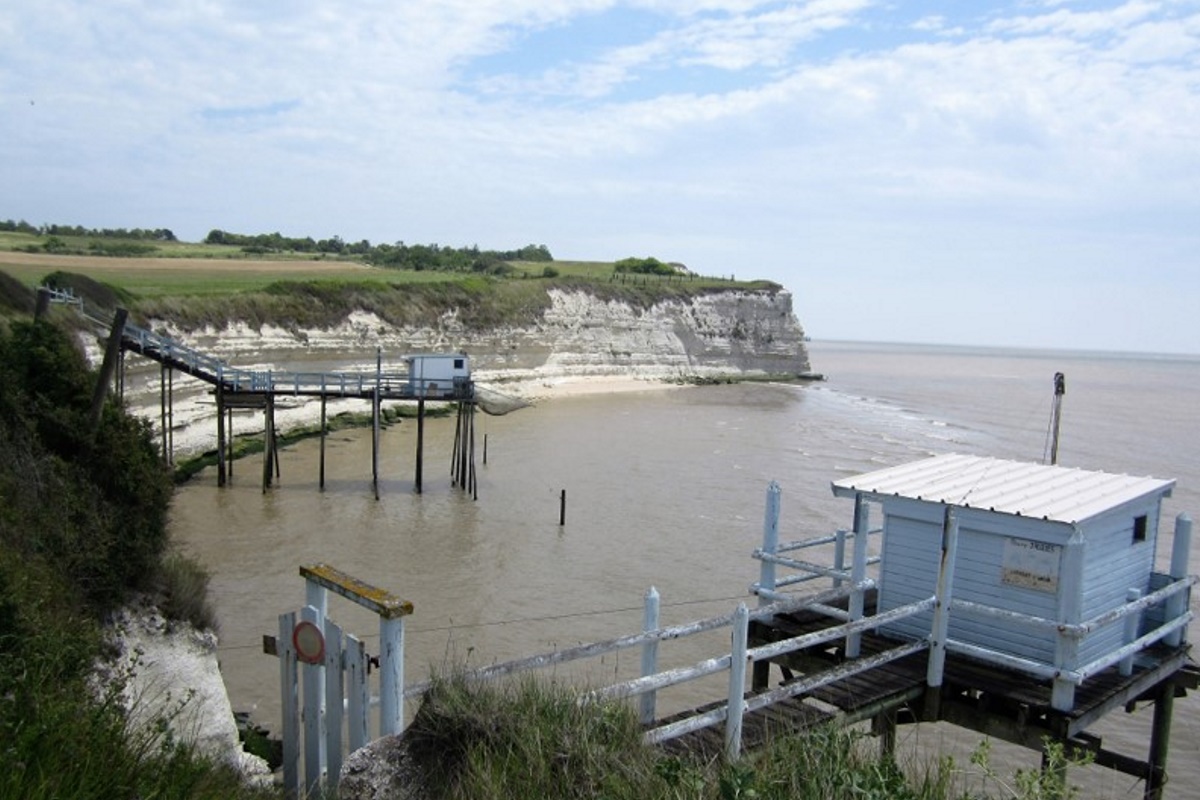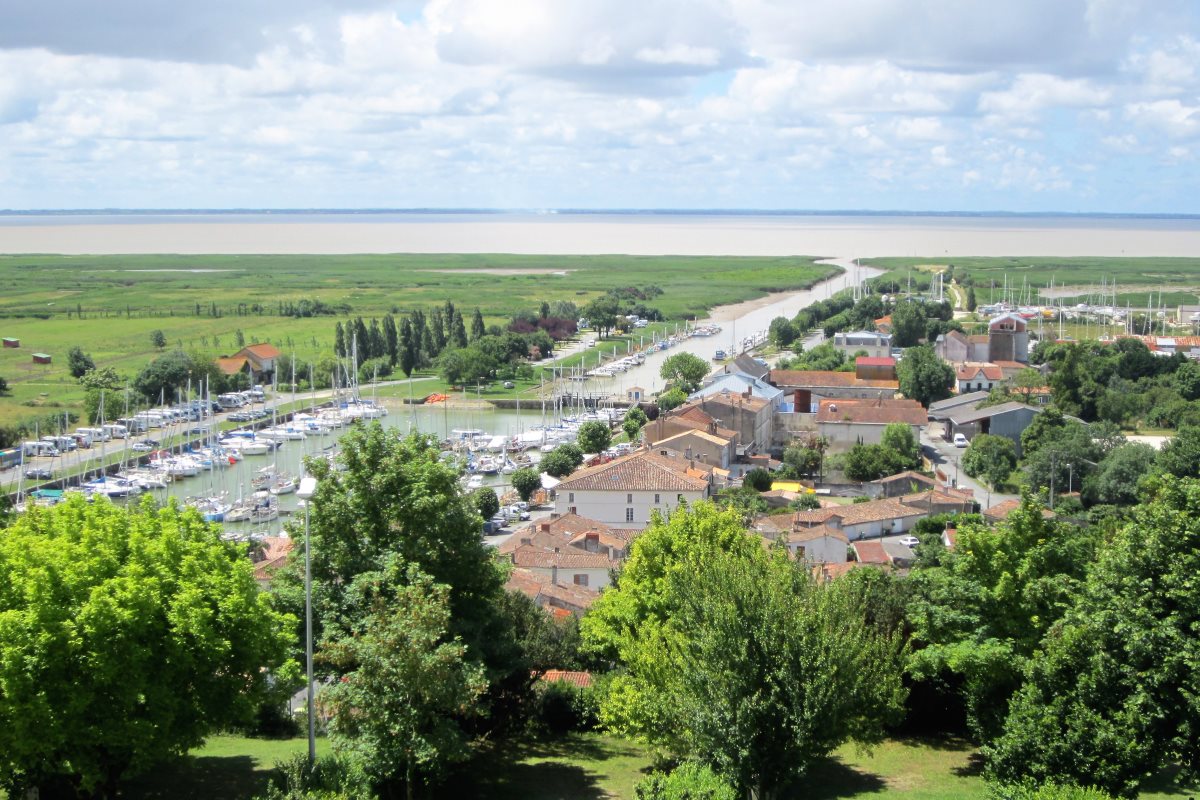 Mortagne sur Gironde (5 km)
Mortagne was once one of the most important ports in our area. Currently it is primarily a pleasant marina, beautifully situated with a stunning view of the cliffs, also called falaises. There are several restaurants, terraces and a number of cabins, where you can get fresh local products such as fish and shellfish, local wines and even roast chicken. Nearby, at the foot of the falaise is a l'Ermitage Saint-Martial, which is open to visitors. In the Middle Ages pilgrims on their way to Compostela visited this chapel in a cave before crossing the Gironde.
Talmont sur Gironde (7 kilometer)
This romantic fortress town is less than 7 km from our house. It is easy to reach via the route vert, a beautiful coastal road that runs from Bordeaux to Royan. There is also a nice bike path. The village is built on a limestone rock, jutting out into the Gironde and is considered one of the most beautiful and therefore most visited villages of France. Don't miss the church of Sainte-Radegonde and the fishing museum. And why not enjoy a good glass of Talmondaise wine on one of the many terraces.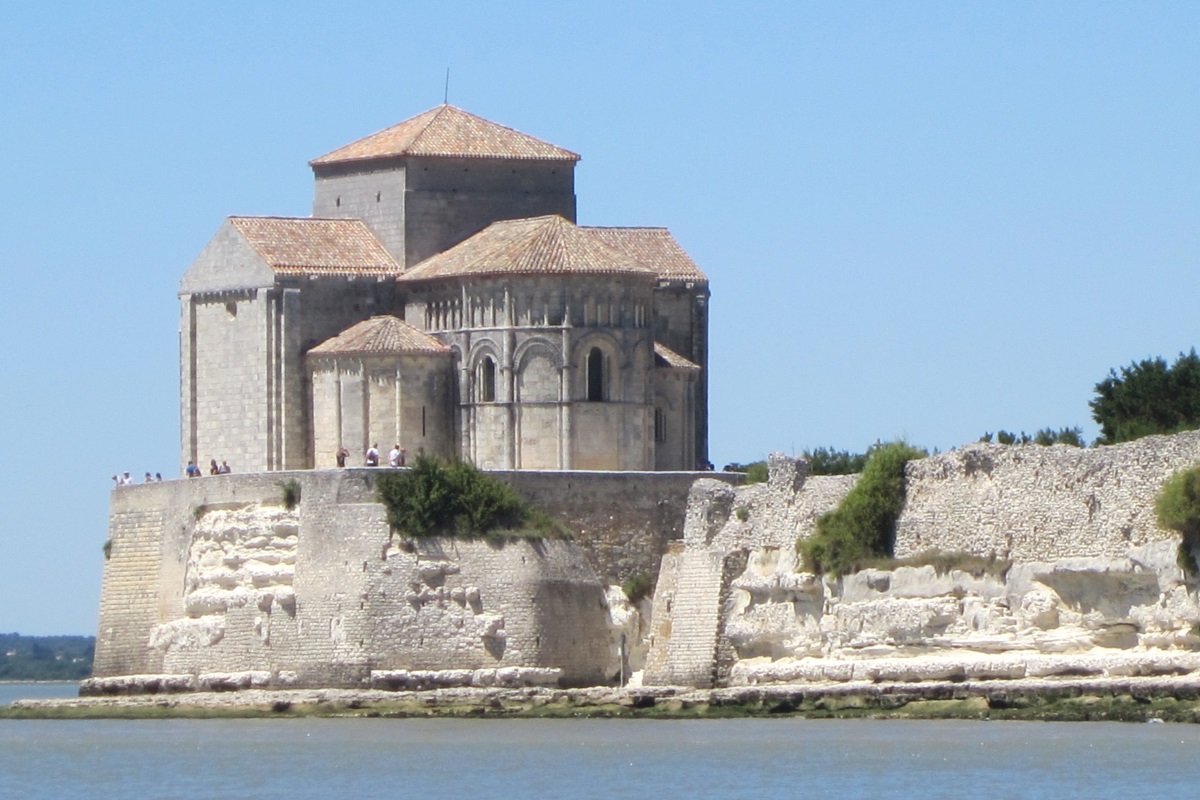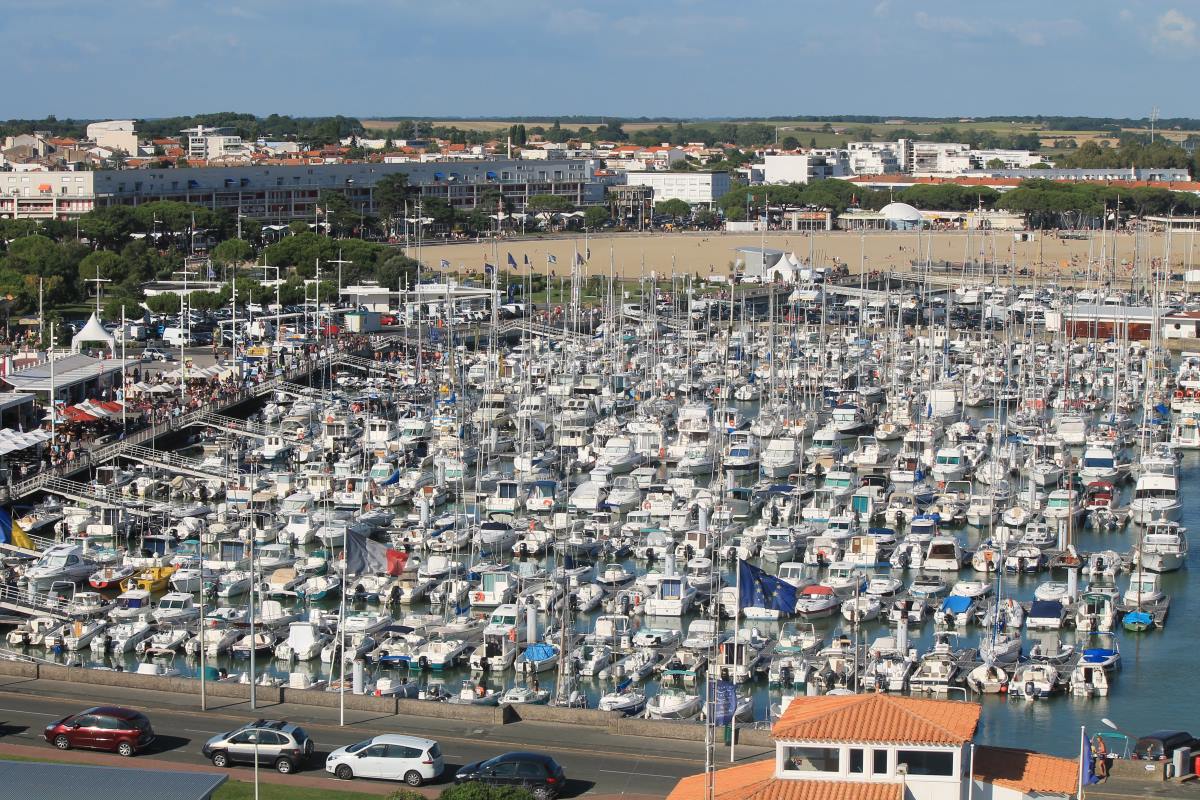 Royan (22 km)
If you follow the coastal road via the smaller resorts of Meschers-sur-Gironde and Saint-Georges-de-Didonne you will come to the lively seaside resort of Royan. There is a large boulevard with an impressive marina and it is teeming with cafes, restaurants and boutiques. There is a ferry connection to le Verdon-sur-mer on the Médoc the other side of the Gironde. After the bombings of 1945 Royan was rebuilt and Notre-Dame Church dates from this time. It's modern design using concrete and with atmospheric interior is very special.
See below a beautiful film about Royan and it's surroundings
Saintes (32 km)
Saintes was originally a Roman city, more than 2000 years old, and is beautifully situated on the banks of the river Charente. Many of the old historic buildings have been preserved, such as the Gallo-Roman amphitheatre, the Roman Arch of Germanicus and the Abbey aux Dames. In addition to the various museums, Saintes is a beautiful historic town. You can shop here and there is a daily market.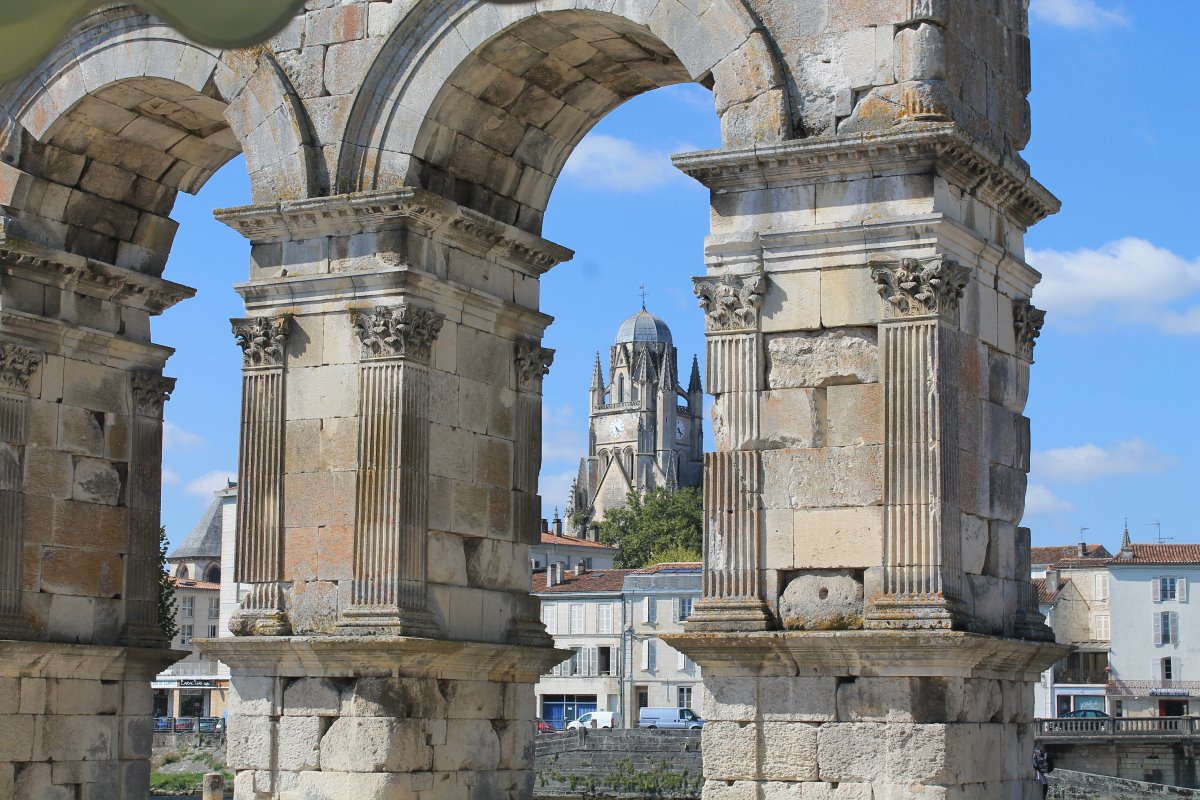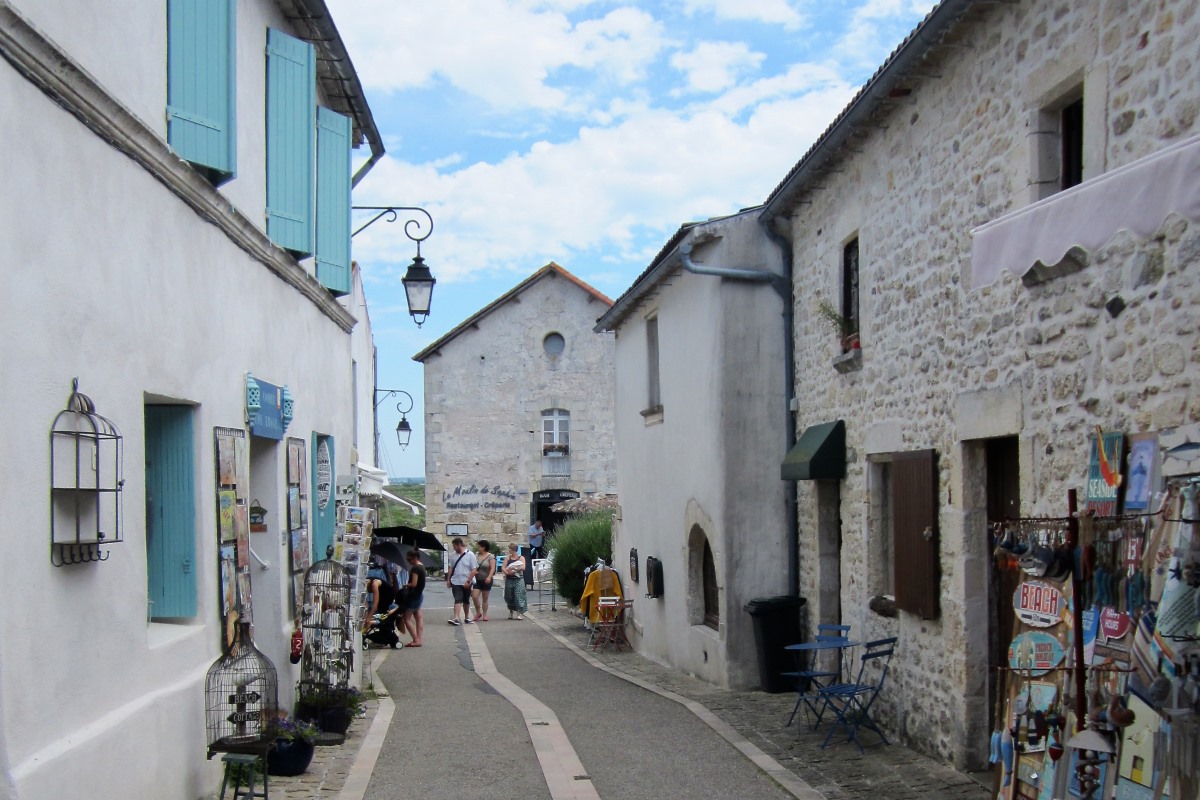 Mornac sur Seudre (34 km)
Mornac-sur-Seudre, just like Talmont, is a charming historic town with its own authentic atmosphere. Mornac is located on the river Seudre, close to one of the largest and best oyster areas on the French west coast. It is also a popular place for craftsmen. Around the harbour there are several restaurants and in the traffic-free centre there are numerous shops with art, clothing and local products.
Phare de Cordouan (12 km and a boat trip)!
This beautiful lighthouse is located at the mouth of the Gironde and is considered the most beautiful and oldest lighthouse in France. It is a historical monument and was built from 1584 to 1611 and is located in the middle of the sea. On the first floor is the royal apartment, at that time intended for Louis the 14th. One floor higher there is a real chapel with altar and stained-glass windows. The view from the lighthouse is beautiful and accessible via a spiral staircase with no less than 301 steps.
The boat trip to it is already an experience in itself. We booked our boat trip at "Cote de Beauté" in the port of Meschers-sur-Gironde (12 km). Along the coast with the beautiful chalk cliffs and beaches, you sail towards the lighthouse. Besides the visit to the lighthouse, it is also a nice place for a day out. Great for a picnic and a dip in the sea, but also for fishing or to search for crabs.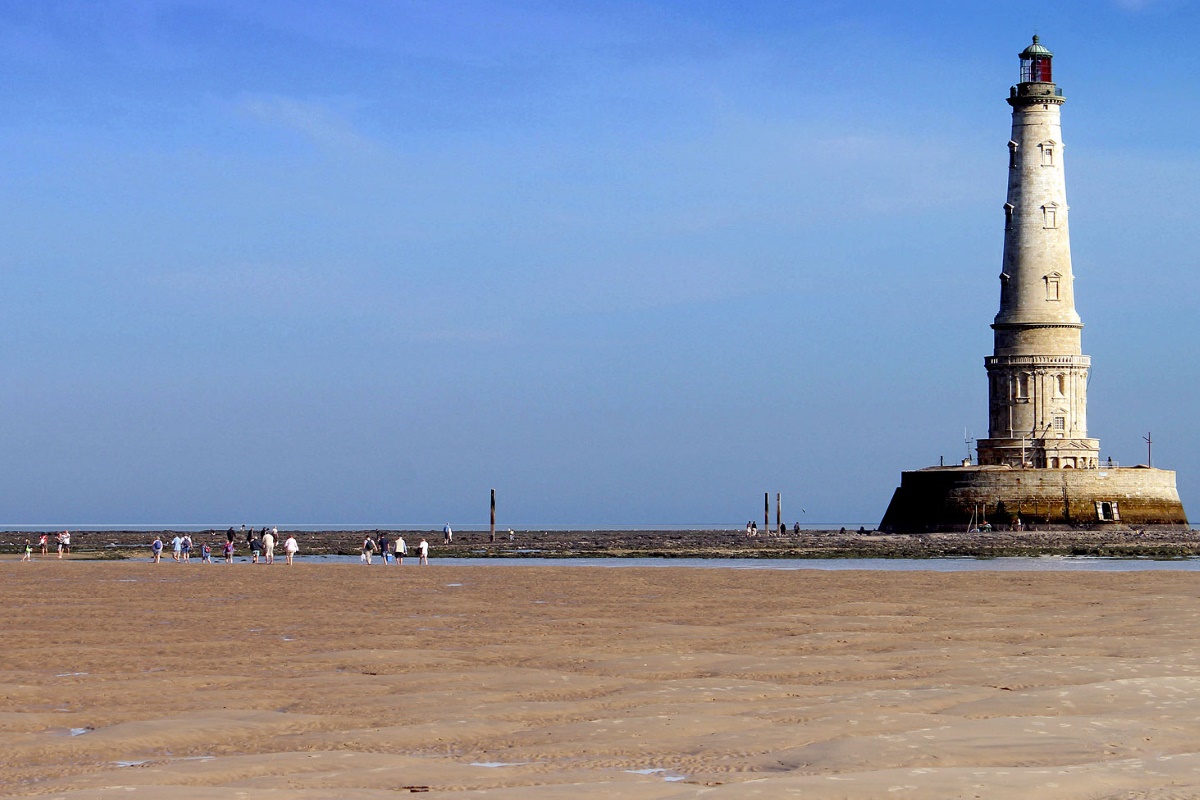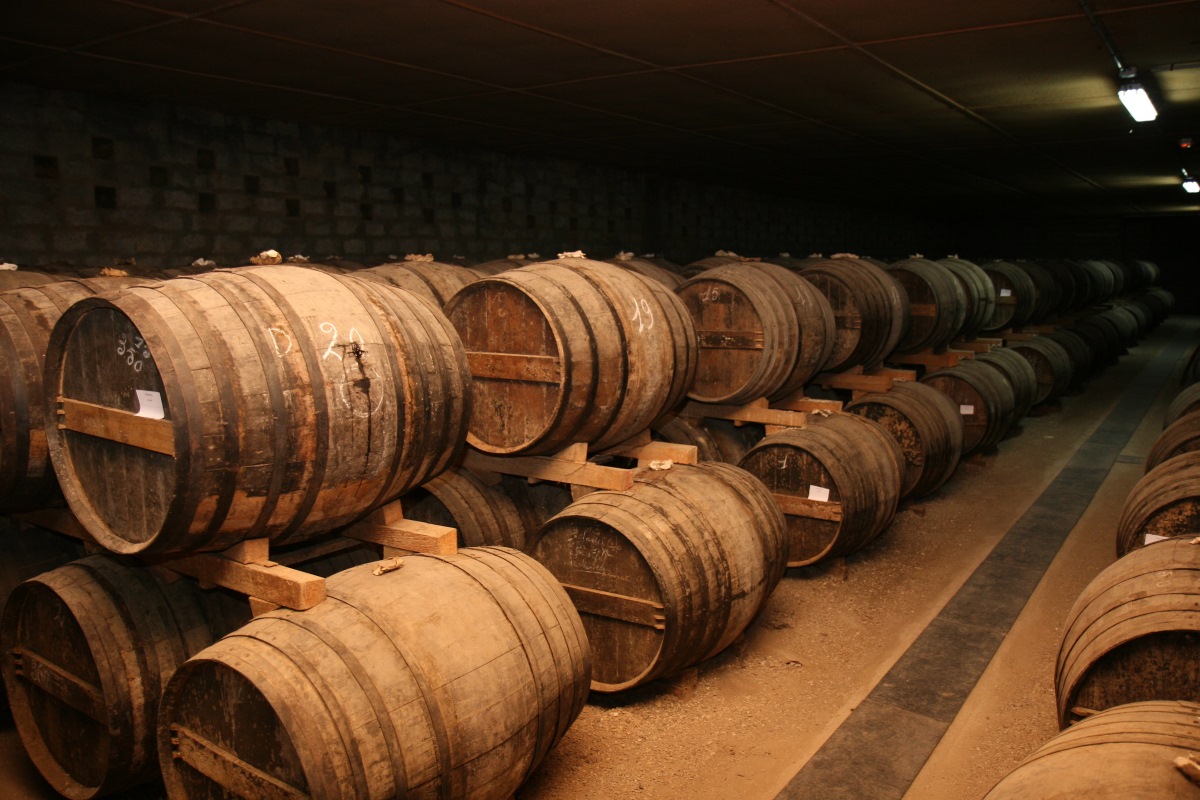 Cognac (49 km)
Cognac is een oude Romeinse stad gelegen aan de Charente rivier. Je kunt er natuurlijk verschillende cognachuizen bezoeken, zoals Rémy Martin en Hennessy. Cognac is naast de bekende drank ook bekend om zijn muziek. Elk jaar begin juli vindt het Cognac Bleus Passions festival plaats en is zeer geliefd onder binnen- en buitenlandse bluesliefhebbers. Gedurende 5 dagen is het heerlijk genieten van de muzikale ambiance. Daarbij zijn de meeste optredens overdag gratis te bezoeken.
Ile d'Oleron (60 km)
Ile d'Oleron is te bereiken via een 3 km lange brug met aan de voet de bekende oesterbanken van Marennes. Deze oesters zijn zeer beroemd om de goede kwaliteit! Op de weg naar het eiland zie je overal de prachtig gekleurde oesterhutten en viskraampjes,  waar je deze bekende oesters kunt proeven. Het is eiland is niet zo groot, maar is toch op Corsica na, het grootste eiland van Frankrijk.
Overal op het eiland hangt een heerlijk relaxte zuid-Franse sfeer. Dit zie je bijvoorbeeld in de plaatsen Le Château d'Oléron en St-Pierre D'Oléron. Het eiland is vlak, ongerept en mooi gevarieerd door zijn kust, bossen en zoutmoerassen. Het is ook een heerlijk eiland om te fietsen. Overal liggen mooie witte kalkstenen fietspaden. Samen met het bekken van Marennes beschikt het over 160 km aan fietspaden.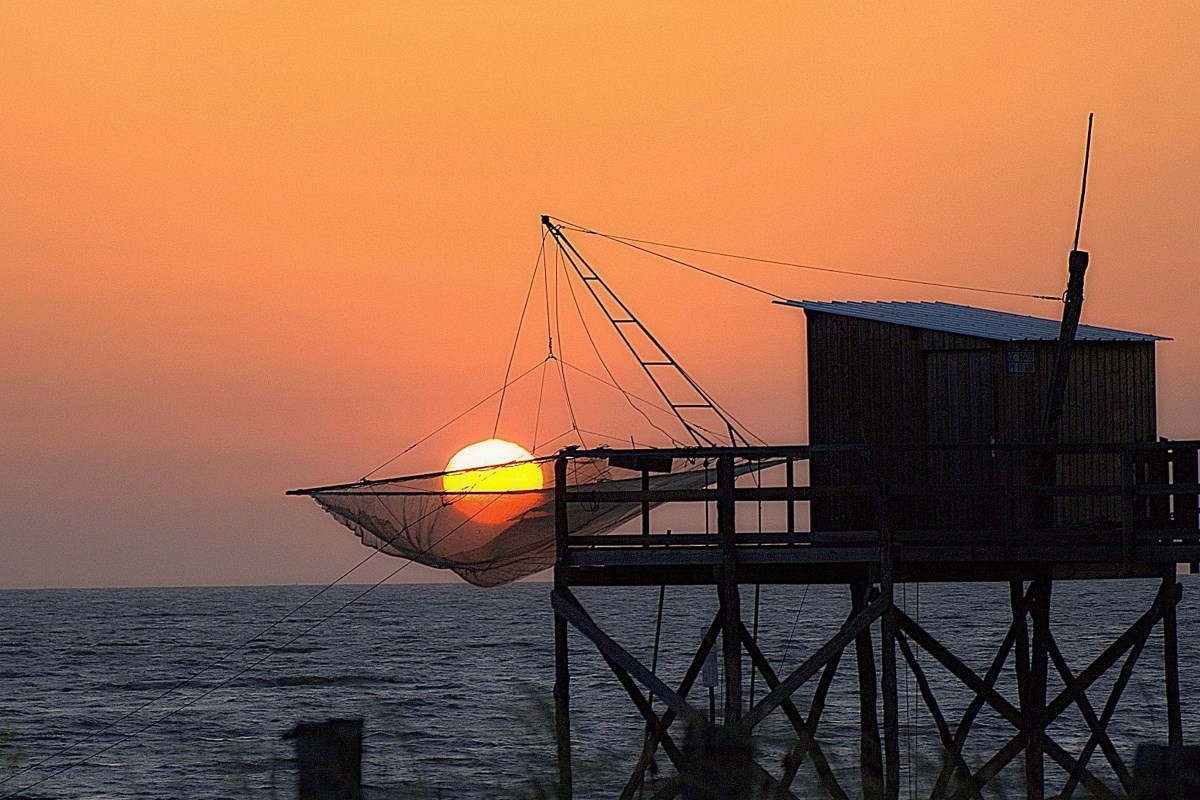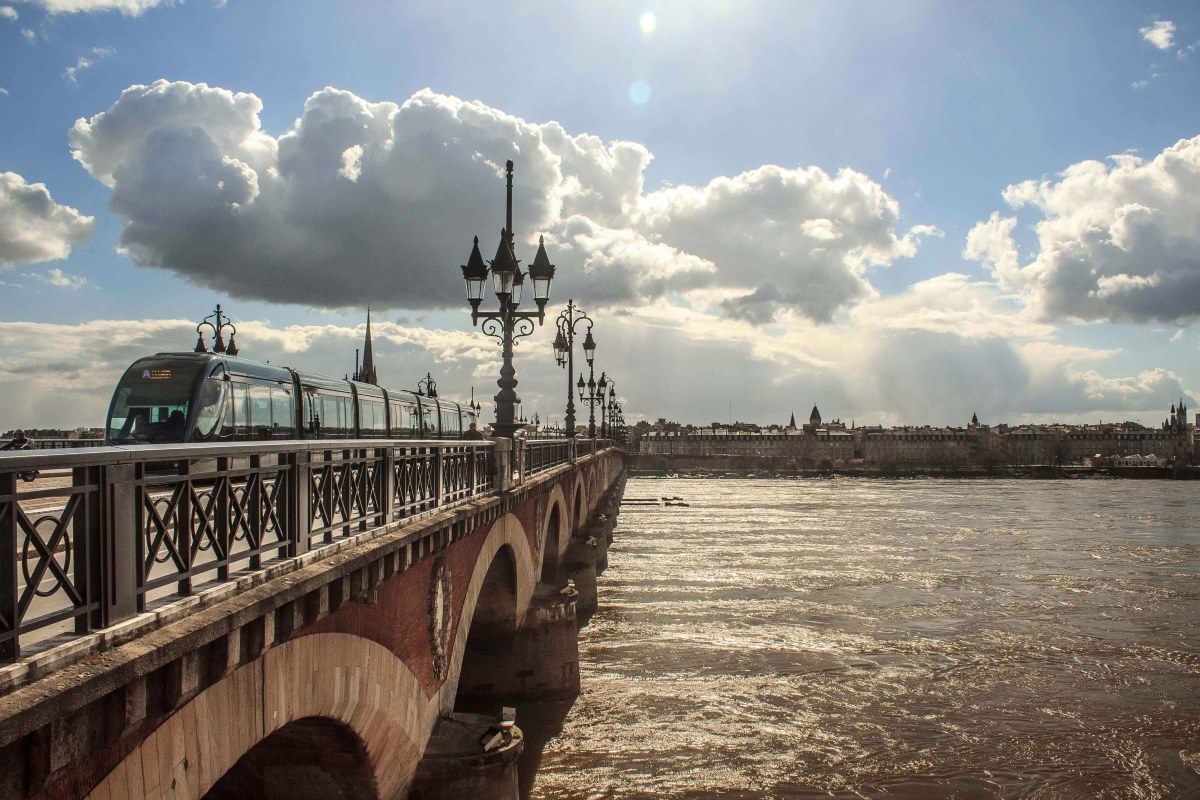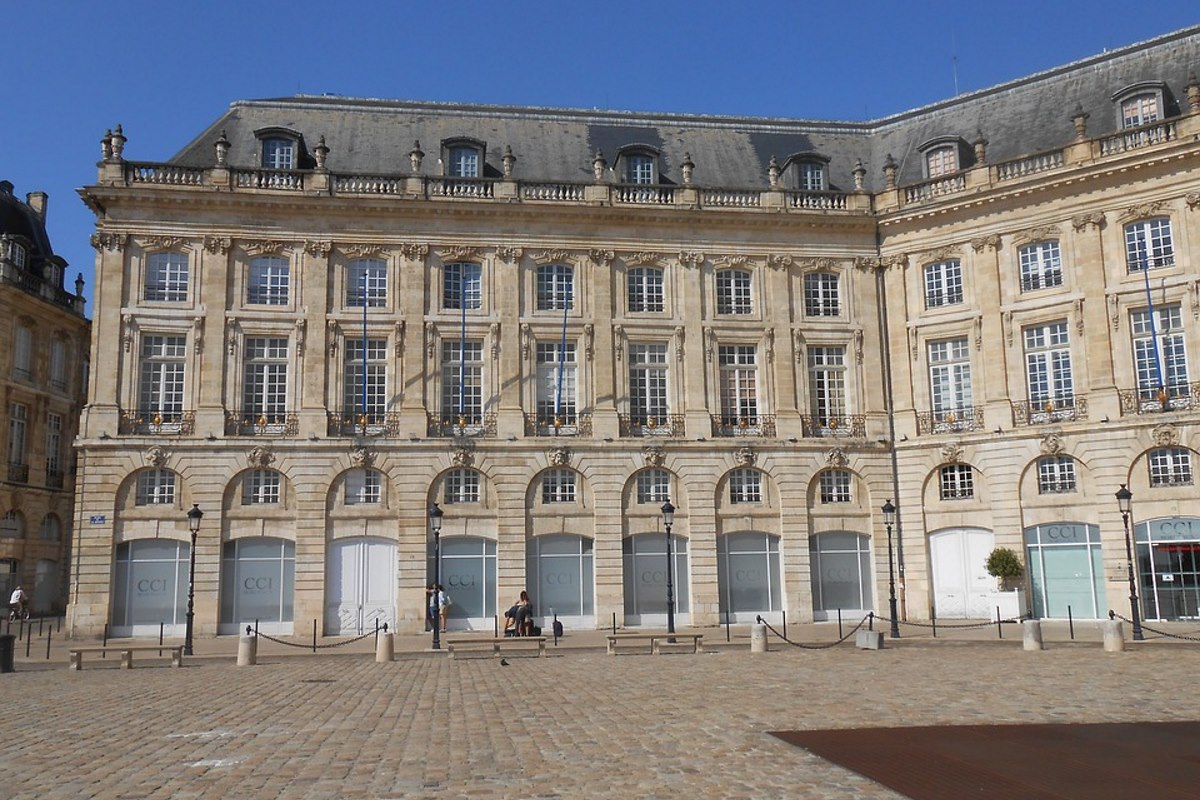 Bordeaux (90 km)
Bordeaux is gekozen tot de beste Europese bestemming van 2017! Het heeft een prachtig oud compact centrum met een chique zuid-Franse uitstraling. Dit oude gedeelte van Bordeaux staat sinds 2007 op de Werelderfgoedlijst van UNESCO.
Bovenal kun je hier heerlijk eten en winkelen, zoals in de gezellige uitgaanswijk Saint-Pierre. Overal in de stad zie je leuke pleintjes, terrassen en wijnbars. De stad wordt in 2 delen gescheiden door de rivier de Garonne. Hierlangs loopt een grote boulevard, waar je heerlijk kunt flaneren en waar je veel hardlopers en skateboarders ziet.
Over de rivier loopt een iconische brug: Pont de Pierre. Napoleon Bonaparte gaf in de 19e eeuw opdracht deze te bouwen. Dit verklaart het aantal bogen van de brug: 17 in totaal en gelijk aan het aantal letters van zijn naam. Aan de overkant van de Garonne bevindt zich de opkomende wijk Le Bastide met de hippe alternatieve plek Darwin, gevestigd in een vroegere kazerne. Het is een locatie waar je kunt heerlijk kunt rondstruinen, overal zie je gezellige eettentjes en winkeltjes. Daarnaast draagt het ook een sympathieke filosofie uit: duurzaam en maatschappelijk ondernemen.
Sinds 2016 heeft  Bordeaux er een groot en bijzonder wijnmuseum bij, La Cité du Vin! Het is een groot en bijzonder architectonisch gebouw, met maar liefst 10 verdiepingen. Op de 7e verdieping is een panoramisch restaurant, met fantastisch uitzicht op Bordeaux. Werkelijk alles wat maar iets met wijn te maken heeft, kun je hier ontdekken en proeven.
Wat zegt Lonely planet over Bordeaux? Kijk het filmpje hieronder.
Ile de Ré (100 km)
Dit eiland is te bereiken via een tolbrug en ligt ten Westen van La Rochelle. Het is voor een dagtrip heel geschikt; je kunt hier ook heerlijk fietsen. In vergelijking met Ile d' Oleron is het kleiner en heeft het een meer glamourachtige uitstraling. Een typerend charmant plaatsje is La Flotte-en-Ré. Een mooi product van dit eiland is de primeur aardappel van Île de Ré, deze aardappels hebben een unieke zilte smaak.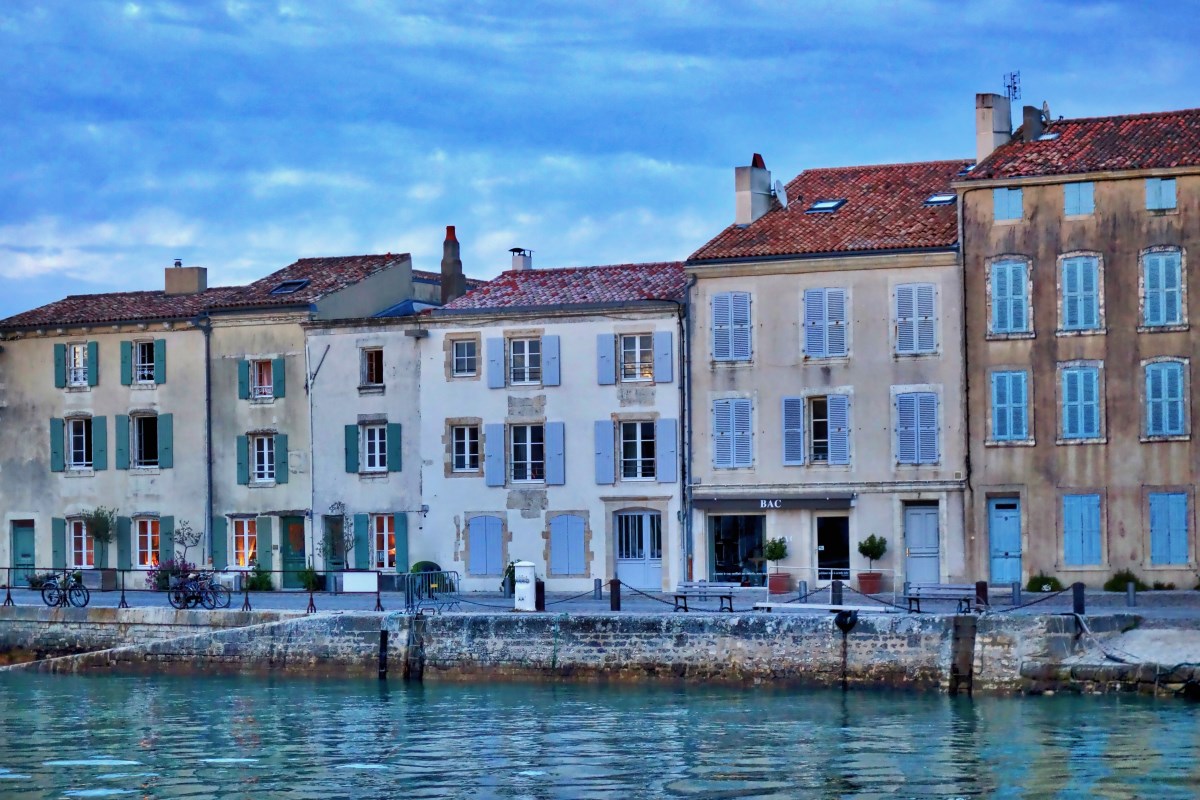 Om een goede indruk te krijgen van het Eiland "Ile de Ré" bekijk dan de prachtige Drone opnamen in het filmpje hieronder van Steven van der Heide.